To celebrate the arrival of 2023, there are currently 4 solar inverters on sale. If you are interested, you can leave your contact information and demand information, and welcome to send your inquiry to get a free quote.
1.Hybrid Solar Inverter (SCI02-PRO/RM) Key Features:
*AN-SCI02 Pro off/on grid hybrid inverter series with automatic frequency adjustment after connecting to utility power.
*Quality far superior to the market.
*High efficiency pure sine wave inverter.
*The input voltage range can be set by LCD so that optimize the overall motion efficiency according to the actual system parameters.
*Optional with removable screen.
*Troubleshooting, monitoring, and support for USB/RS232 communications.
*Surge of 2X continuous power supplying to the motor load.
*Supports WIFI wireless monitoring.
*Remote monitoring and operation can be achieved through mobile APP.
*Supports direct power supply to the load without battery (no need for parallel connection).
*Configurable to return to battery storage.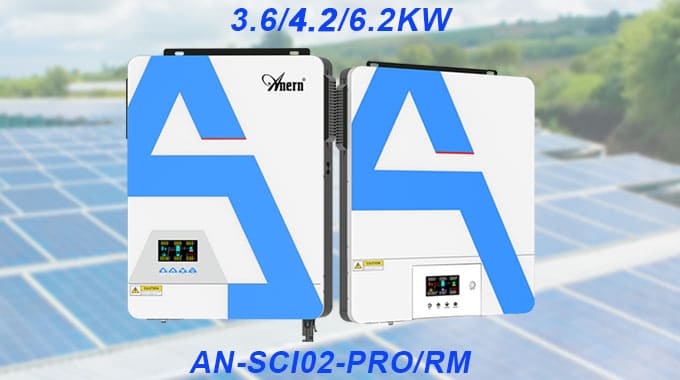 2.Hybrid Solar Inverter (MD) Key Features:
*Removable screen, convenient operation for more users.
*It is upgraded from Anern's AN-SCI02-Plus series.
*Exclusive power resolution design, can be used without connected battery.
*Support connect to wifi through your mobile phone to check the system operation.
*Combined with solar panels, batteries, etc., continuous power supply.
*The LCD monitoring screen can be placed at any location in the home to achieve remote monitoring and operation.
*Support WIFI wireless monitoring.
*Support intelligently handle applications and solar inputs preferentially.
*Control the details of the production process.
*High inverter efficiency, low no-load loss.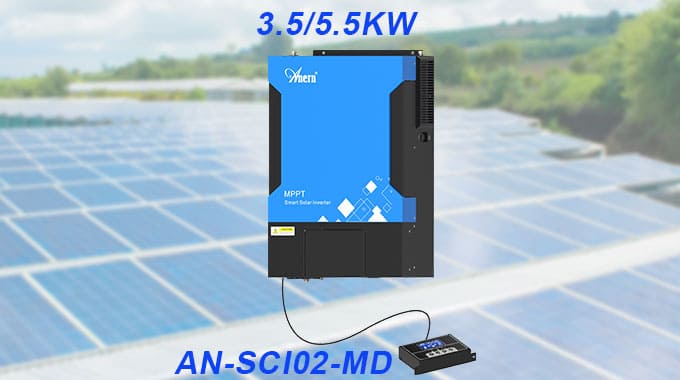 3.Hybrid Solar Inverter (Azure) Key Features:
*High performance parameters, more reliable.
*Converts efficiently.
*Smart HCI display.
*Smart battery charger design for optimized battery performance.
*Configurable AC/Solar Charger priority via LCD setting.
*Optimized battery performance.
*Can be connected to lithium batteries.
*Compatible with mains voltage or generator power.
*Overload, over temperature, short circuit protection, etc.