Dubai: The Roads and Transport Authority (RTA) in Dubai registered significant power savings of 12.6 gigawatt-hours in 2018 thanks to energy efficient solar street lighting.
The power savings are equivalent to reducing carbon emissions by 5,430 tonnes.
Dubai Media office tweeted: makes 12.6 Gigawatt-Hour electric power savings in 2018 & reduces carbon emissions by 5,430 tons through power saving initiative by replacing the conventional street-lighting units of HID type by LED lights.
The energy savings was brought about by RTA's initiative to replace street lamps with more energy efficient light as part of its strategic objective of nurturing a sustainable environment through saving power consumption.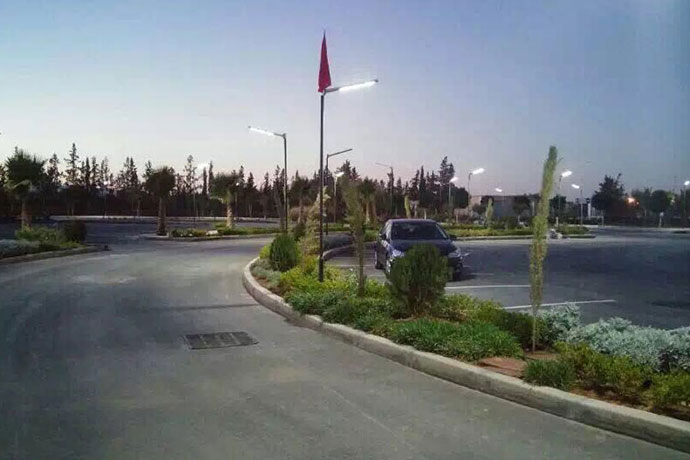 In 2019, the Dubai Island project of the Asian Solar Street Light was successfully completed and it also contributed to Dubai Green Energy.
The road section is far away from the city and belongs to a remote area. It is difficult to supply electricity. If you want to pull the power grid, you will have to invest a huge amount of money, and the amount of investment will be huge. It is difficult to recover the investment funds. In addition, the quality of ordinary street lamps is generally general, often requires maintenance, and a large amount of maintenance costs are also difficult for customers to bear.
The customer is looking for street lamps manufacturers in all countries of the world, but they can't find a suitable product.
As for Anern, according to the actual needs of customers, through field visits, provided professional answers, recommended 10m 120W single lamp arm and 10m 100W double lamp arm solar street light to customers.
This streetlight can last for about 5 nights with only 6-8 hours of sunshine, and the weather in Dubai is long and sunny, so you can basically eliminate the shortage of power.
The use of aluminum as a streetlight enclosure, ip65 protection grades, etc., also reduces the cost of repairing streetlights.
Although solar street lamps are more expensive than ordinary street lamps, considering the return on investment, the cost is reduced.
After a few months of selection, the three customers considered that the customer finally decided to choose Anern.
A local resident said: "There was no streetlight at night. It was extremely inconvenient to travel at night, and there were frequent traffic accidents. Now, with the streetlights, this road is so busy at night that it has accelerated economic development and changed our lives! "
In the next 30 years, Dubai will continue to focus on the development of green new energy, and Asia Energy will work together to achieve its dreams.